Kraftwerk Inspiration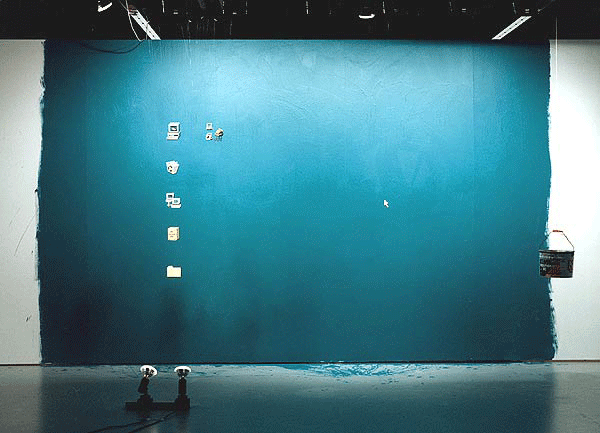 Ola Pehrson - Desktop (1999)
Ola Pehrson's "Desktop" is actually a 10:1 scale model of a Windows 95 interface that is videotaped and presented in real time on a computer screen across the room that you can see
here
.
When a computer guru / music buff buddy of mine asserted that he hadn't listened to much Kraftwerk, I was inspired to take a stroll around the blogosphere and see what musical remnants I could conjure. Streaming as an apt digital testament to the pervasive lingering inspiration of this 1970's German soundmachine, Kraftwerk remixes and mashups are being created, hosted, and enjoyed on the internet as we speak. Here are a few intergenerational pieces I found strewn about:
The original
"We Are the Robots" video
(via YouTube) establishes the unique Kraftwerk message and style. Only missing are the characteristic laptops, though one can visualize their presence suprisingly easily with the whole dogma being chillingly ahead of its time (while I believe the literally flashy ties are the same design the band still wears on tour). The UK tasteblog Headphone Sex has a remix of one of my favourite Kraftwerk songs
"Radioactivity"
(mp3).
Mashups are inevitable and with Kraftwerk's timelessly simple elegance, they are fairly successful. Soulwax has an impressively cohesive mix of
Kraftwerk's "Numbers" with The Beatles' "Eleanor Riby"
(mp3). One of the best and most prolific mashup artists is a guy named
Party Ben
and his
"Computer Love"
(mp3), the artificially-inseminated love child of Kraftwerk's "Computer World" and Coldplay's "Talk", gives Kraftwerk the appropriate headnod it deserves for more-than-inspiring the popular single. With the same playful hope of those applications that age your face twenty years or visualize the amalgamation of your future kids with Angelina Jolie, laying female vocals over Kraftwerk beats outputs a pleasant depth. Listen to experiments with dream front women
Whitney Houston
(mp3 via
Overstated
) or Everything But The Girl's
Tracey Thorn
(mp3 via
Beatmixed
). I also found a dancy mashup of
Kraftwerk's "We Are the Robots" with Gwen Stephani's "Hollaback Girl"
(mp3) at an NYU Communications Lab page, if you secretly love that Gwen song as much as I do.
Modern indie bands even bow in patronage including Canasta, performing an intruigingly original acoustic cover of Kraftwerk's originally uber electronic
"The Model"
(mp3) (via the ever-exciting
Skatterbrain
).
For those keeping score... that's a video, a remix, five mashups, and an indie cover. *Whew*